The Music Void attends the fifteenth edition of Tallinn Music Week, the music festival and conference celebrating freedom, art, technology and communication.
Estonia has been developing a tech-savvy attitude since the Restoration of Independence in 1991. Several technological (ICT) solutions led to the formation of e-Estonia, the system of digital services that embodies voting, tax payments, banking and education. In 2003, Estonians Ahti Heinla, Priit Kasesalu, Jaan Tallinn, and Toivo Annus created Skype software that enabled prompt communication through PC and later mobile apps. Back then, no one was guessing how useful this invention (along with Zoom) would be seventeen years later during the series of lockdowns across the globe.
Impressively, high-tech inventions co-exist with traditions and history. Autonomous delivery robots, looking a bit like smaller versions of R2-D2, move along the girder rail almost at the same speed as a tram, just a hundred metres away from the 13th-century Old Tallinn's wall. Constructed in 1936, the Tallinn Airport building is equipped with a high-end facial recognition system.
A cornerstone of the further state's development, artificial intelligence is inevitably one of the key topics at the Tallinn Music Week conference. At the panel addressing the controversial realm of AI, IT scientist and entrepreneur Linnar Viik shares his optimistic view on the technology that generates content for his new project PoCo, Pop and Contemporary Art Museum. "I've learned a lot with the help of AI about the colour code, the repetition tools that Andy Warhol, Roy Lichtenstein, Jim Dine and early 70s' Italian pop artists used. This is why AI is very good, being somebody who is helping you to recognise things you never thought of before". PoCo's exhibition features some of the aforementioned names with artistic contributions from artificial intelligence.
In terms of further development of AI, Viik, who is also a member of the NATO Advisory Group on Emerging and Disruptive Technologies, says that the amount of generated data is a potential issue to deal with. Thus, access to the cores of technology should be democratised. "The biggest risk that I'm seeing currently with the development of artificial intelligence but also with most of the computing power-related matters is that we all generate data, and machines generate data, so it's not about how much [we have] but the capabilities and abilities to give meaning to that data. And it's out of the government's control, it's out of the users' control and it's mostly out of the control also of the small players like the music industry. It's a handful of technology companies who are really capable of using and utilising the technology in its most of the powers and we are just the ones who are training, using and going to pay a small part of our royalties to those industries".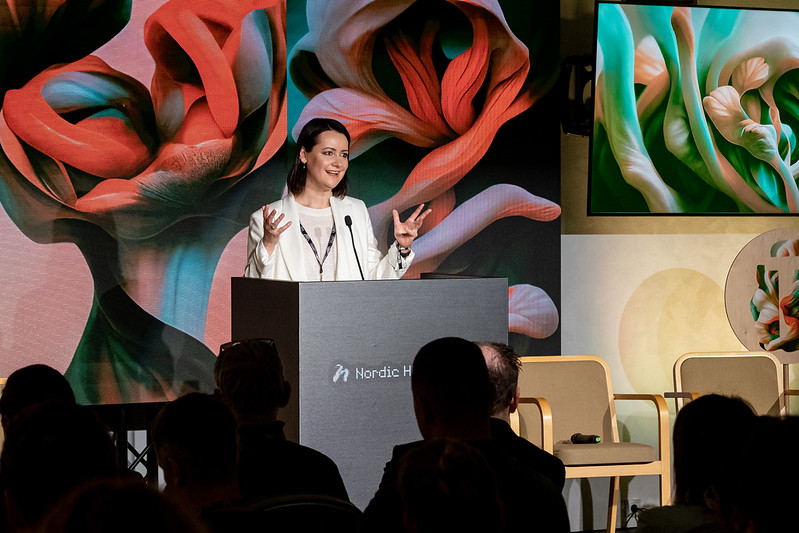 Head of TMW Helen Sildna at the Tallinn Music Week conference opening (Photo: Aron Urb)
Different aspects of the event production prove that Tallinn Music Week keeps its fingers on the pulse of progress. Despite the overriding AI scepticism within the music industry, the Shiftworks team running Tallinn Music Week and Station Narva festivals feel optimistic about collaboration between humans and AI. One example is the design for the former event, where petals and tendrils entangle seemingly forming one. Founder and CEO of Shiftworks Helen Sildna commented on the concept during her opening speech: "The artwork of Tallinn Music Week 2023 expresses our hope that human-driven creativity, responsibly assisted by technological advantage, is a force of good".
Music-wise, the festival mirrors the time-machine-esque environment where the past meets the future. Such artists like Mari Kalkun, Leik, Duo Ruut and Tuulikki Bartosik absorb the invigorating energy of traditional music, either adapting it to the ears of a contemporary listener or highlighting its ritualistic element. Sharing one kannel (Estonian version of zither), two members of Duo Ruut present runo songs in an indie-folk package, while Mari Kalkun elicits from the same instrument ambient drone and krautrock sound.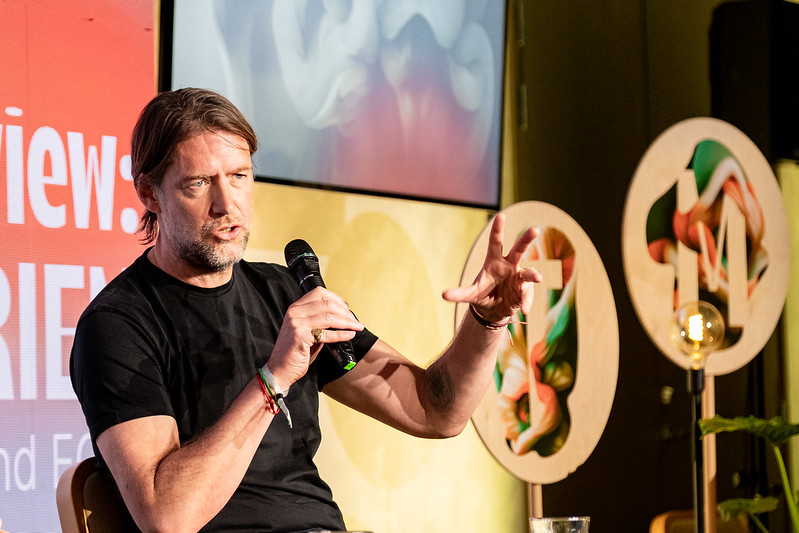 Ed O'Brian at the Tallinn Music Week conference (Photo: Aron Urb)
The event, where innovation is an overarching motif, attracts artists with a forward-looking outlook. One of the conference speakers is Ed O'Brian, the guitarist of Radiohead, the band whose romance with technology and experiments has been ongoing. Back to the music programme, Latvian composer Elizabete Balčus does a sophisticated multimedia show that involves an impressive stage outfit and unusual instruments such as "talking" fruits and vegetables, operated by Bare Conductive touch board.
It's clear that due to its historical background, Estonia can accommodate different cultures. Tallinn Music Week becomes a key venue for discussion, collaboration and exchange. People from different backgrounds meet and find common ground. Perhaps, it's that longing for a better future that unites participants from seemingly distant worlds. As a country that went through a state of transition after gaining independence in 1991, Estonia cherishes its roots and freedom as well as creativity and novel ways for self-expression. The exhibition at Kumu Art Museum, The Future is in One Hour: Estonian Art in the 1990s sums up this gratifying attitude. One of the works at the permanent display is a photo collage Röövel Ööbik (see the featured image), named after the Estonian game-changing indie band (they were the first band from the Baltics to play on John Peel's BBC Radio One show). The puzzle of pictures shows members of the band along with images depicting fragments of ancient art. Röövel Ööbik played a reunion show at Tallinn Music Week 2022 and still invoke that spirit of freedom and unrestrained creativity. A future they were dreaming of back then and the one we are dreaming of now.