The recent Universal Music Group-brokered deal with the French music streaming service, Deezer, has been the subject of much debate. Martin Mills of Beggars Group, Darius Van Arman of Secretly Distribution, Stephan Bourdoiseau of Wagram Stories, and Emmanuel de Buretel of Because Music joined forces in a post in Music Ally that confronts the pros and cons of the user-centric versus pro-rata streaming models.
The "user-centric," and it's supposed to be the golden ticket to a fairer, more transparent music industry. But is it really a game-changer or just another flop we've heard before?
Before we get into the nitty-gritty of Deezer's grand plan, let's talk about the current champ, the pro-rata model. You know, the one where they throw all the money into a big pot and divvy it up based on who's getting the most streams. It's simple, it's predictable, and it's the way most streaming services like Spotify and Apple Music do business. But it's also about as fair as tossing a two-headed coin.
Let's take a quick look at the two models.
First up, the pro-rata model. The pros? Well, it's easy-peasy to implement and keeps things stable like a reliable old horse. Plus, it's a cash cow for the big-name artists who already have stadiums full of fans. They're making bank. The cons? It's a raw deal for the underdogs, the indie artists with more passion than streams. And it's about as efficient as a leaky roof when it comes to rewarding quality and diversity in music.
Now, onto Deezer's big idea (or is it UMG's) – the user-centric model. In this wild ride, your subscription money goes directly to the artists you're bopping to. No more pots, no more divvying up. Sounds like a dream, right? Well, hang on, because dreams can be nightmares too.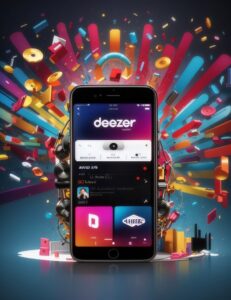 The upsides? It's like music democracy, giving power to the people. You pay for what you love, and indie artists get a fairer slice of the pie. But here's the twist – it's so complex and costly to pull off that you might end up paying more just to understand where your cash is going. And don't get too comfy with your favorite artist's financial stability, because under this system, their paycheck's got more mood swings than a 14-year-old teenager.
Deezer's user-centric model isn't exactly a picture of perfection. It's a bold experiment, sure, but it's also like tossing darts in the dark and hoping to hit the bullseye. As Deezer's CEO Hans-Holger Albrecht aptly put it: "It's not a magic bullet." In fact, it's more like a magic eight-ball with all the answers missing.
Whether you're Team Pro-Rata or Team User-Centric, one thing's for sure – the music industry is still trying to find its way in the ever-changing digital age. Deezer's got the courage to step onto the stage, but we'll have to wait and see if they're the rockstar saviors or just another opening act in the grand scheme of streaming.