Well yes, it's that time of year and Apple has launched the iPhone 5. As is to be expected the media have over-hyped what is in all senses a phone that should have been launched in 2011 if not 2010. After two years of every other phone manufacturer leading the field in terms of screen size and resolution Apple finally realizes it was behind the curve.
Interesting the iPhone 5 still is behind the curve in comparison to the majority of high-end smart phones already in the market, which are 4.5 – 4.8 inches in size in comparison to the iPhone 5's rather measly 4-inch screen. There is no arguing that the original iPhone when launched in 2007 was absolutely revolutionary.
I purchased my HTC desire HD way back in December 2010 and it had a 4.3-inch screen and 8-megapixel camera and a faster processor that what was in the iPhone at the time. The integration between social media and my contacts in the Galaxy S2, which was launched in May/June 2011, was already miles ahead of the iPhone 4S, which was released 4 months after the Galaxy S2.
However, the manner in which Apple has managed to release only limited updates with the introduction of the S for the iPhone 3S and 4S models after the release of the iPhone 3 and 4 has instead meant Apple lost the advantage in the highly competitive smart-phone market.
Samsung sales figures show that Samsung has outsold Apple buy tens of millions on a global basis. Yes Samsung have more models – that in itself, details in TMV's view that Samsung in terms of mobile smart-phones are more innovative then Apple.
However, another interesting fact is how much it costs Apple to manufacture the iPhone 4, 4s and 5. TMV managed to get access to TechInsights break down of the total cost to Apple to produce each of the aforementioned iPhone models.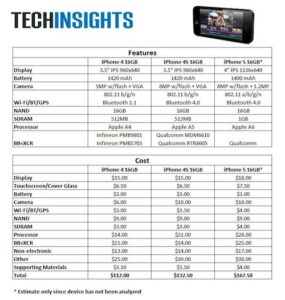 It is interesting to note that it clearly outlines that the ram has only cost Apple $9 USD per 16GB yet in Australia Apple charge a whopping $100 per extra ram upgrade (so a mark-up of 1000%) – nice if you can get it.
What's more it really illustrates how important the iPhone is to Apple's bottom line, with the iPhone 4S costing a total of $132 USD to manufacture. Yet in Australia Apple was retailing this same base model for $799AUD ($841 USD at today's exchange rate). An awesome mark-up in anyone's books.
Now let's examine some of the reasons Apple may be able to get away with such a mark-up. According to Australian journalist Matthew Powell who has covered Apple for decades states that by allocating limited stocked to carriers and stores Apple gets two stories – "pre-orders sell out" and "queues around the block on launch day". Matthew goes further to note that "if it isn't deliberate, it is awfully fortuitous". In plain English what he is stating is that Apple manages to manufacture this extra hype by limiting stock availability prior and during the launch of each iPhone.
So, for all you iDrones out there you are being played – but hey feel free to line up if it makes you feel better…
On a final note, there really is not much new about the iPhone 5 except a larger screen that is still smaller than what would be called standard for a smart-phone, an improved but by no means better camera and faster processor than in its predecessors. No NFC, it lighter than the older iPhone models but still heavier than other larger and better spec'd competitor phones on the market.
All in all in TMV's view yes Apple innovated with the original iPhone but this new model is back to the future and already behind the curve in comparison to what smart-phones competitor manufactures have and are continuing to launch. It's time Apple stopped sitting on the side benches and do what it does best – make other people's ideas work better!