Last Wednesday night at her show in Phoenix, Lizzo performed her own tribute to the great Tina Turner. At that time she made the following statement: "I would not exist if it not for the Queen of Rock 'n' Roll," Lizzo said to a crowd in Phoenix on Wednesday night. "There would be no rock 'n' roll without Tina Turner." Wrong!
I think it's time we send Lizzo to school. I'll even get her a scholarship to the Kollege of Musical Knowledge.
Tina Turner is one of the most iconic and influential figures in the history of rock and roll. Her powerful vocals and energetic performances have inspired generations of musicians, and she is widely considered to be one of the greatest live performers of all time. However, while Turner is undoubtedly a legend, it is not entirely accurate to say that without her there would be no Rock 'n' Roll.
It is true that Ike Turner produced and played on a record called "Rocket 88" in 1951. Ike's band the Kings of Rhythm played on the track and it was sung by his sax player Jackie Brenston and credited to Jackie Brenston and his Delta Cats. It went to number one on Billboard's R&B charts. It is considered to be a very important and influential record.
But Tina didn't even meet Ike until 1957 when she started singing with the Kings of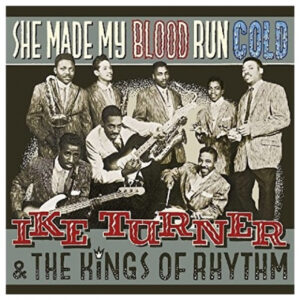 Rhythm. Under the name Little Ann, she appeared on her first record, "Boxtop", in 1958. After marrying Tina, Ike dropped the name Kings of Rhythm and his show became the Ike and Tina Turner Review. They labored for years in chitlin' circuit shitholes. Tina got a big break when Phil Specter produced the classic Tina Turner record "River Deep, Mountain High" in 1966, but it was a dud upon release. Ike and Tina didn't have a mainstream hit until 1971 when they covered "Proud Mary". On the heels of that success, the Ike & Tina Turner Review became a huge worldwide touring act.
Ok Lizzo, now let's get down to the facts. Though many people have claimed the rock n' roll founder's title, like Alan Freed or Sam Phillips for example, it was Bill Haley and the Comets who had what is now considered to be the first mainstream rock 'n' roll record, "Rock Around The Clock" in 1954. That busted the music scene wide open and what came next were the real creators of rock 'n' roll.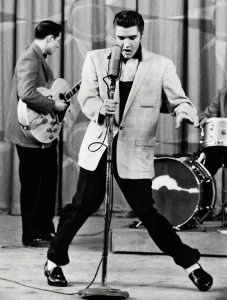 Elvis Presley is referred to as the "King of Rock and Roll." With his magnetic stage presence, powerful voice, and a fusion of various musical genres, including rockabilly, rhythm and blues, gospel, and country, Presley revolutionized popular music. His breakthrough hits like "Heartbreak Hotel" and "Hound Dog" propelled him to international stardom, introducing a new sound that captured the imagination of a generation.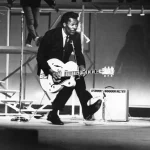 Another one of the most influential figures in the early days of rock and roll was Chuck Berry. With his unique blend of rhythm and blues, country, and an electrifying stage presence, Berry became a trailblazer for future generations of rock musicians. His guitar-driven sound and captivating lyrics, exemplified in songs like "Johnny B. Goode" and "Maybellene," set the standard for the genre. Berry's music broke racial barriers and appealed to a diverse audience, cementing his status as a true pioneer of rock and roll.
Known for his flamboyant personality, energetic performances, and distinctive vocal style, Little Richard played a pivotal role in shaping the early sound of rock and roll. His dynamic piano playing and raw, exuberant voice brought a new level of energy to the genre. With hits such as "Tutti Frutti" and "Good Golly Miss Molly,"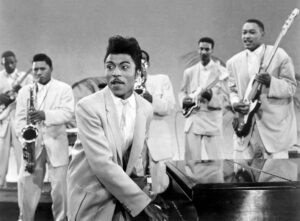 Little Richard challenged societal norms and set the stage for future rock musicians with his unabashedly rebellious and charismatic persona. (Disclosure: Richard was a client of my PR firm when I worked on his authorized biography "The Life And Times Of Little Richard")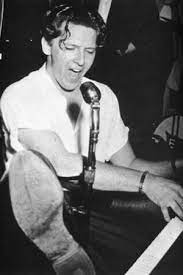 Jerry Lee Lewis (a.k.a. "The Killer"), known for his electrifying piano performances and rebellious persona, was another key figure in the early days of rock and roll. With his energetic style and explosive stage presence, Lewis captured the essence of the genre. His signature song, "Great Balls of Fire," remains an iconic rock and roll anthem to this day. Lewis's unbridled passion and musical virtuosity laid the foundation for the piano-driven rock sound that would influence future generations of musicians.
There were many others who were hugely influential including Buddy Holly, The Everly Brothers, Big Joe Turner, Sam Cooke, Sister Rosetta Tharpe, Fats Domino, Big Momma Thornton, Ruth Brown, James Brown, Robert Johnson, Ray Charles, Louis Jordan, Carl Perkins, Johnny Cash, Hank Williams, Big Joe Turner, Bo Diddley and, yes, even Ike Turner ("Rocket 88"). But Tina wasn't part of the conversation until the late 60's.
Aside from the great African American women who helped pave the way for the white guys like Elvis, the closest thing you could get to a female rocker back in the 50's was Connie Francis. 
Lizzo, your tribute to Tina Turner may have been heartfelt, but your understanding of rock and roll's origins is a tad off. While Turner is undeniably an important figure, she is but one piece of the puzzle. So, before you make grandiose claims about the origins of rock and roll, I suggest delving into the rich history of the genre. Perhaps then, your scholarship to the Kollege of Musical Knowledge will bear fruit, and your insights will become a little less, er, uninformed?