It's not only AI that can generate surprises in the music industry these days. The recent vinyl edition of Taylor Swift's new album Speak Now (Taylor's Version) is a bona-fide example. On his Instagram profile, DJ and electronic music producer Damian Lazarus uploaded a Tik Tok video by Taylor Swift's fan sharing her impression while listening to the newly released Orchid marbled copy Speak Now. As the record begins spinning, the facial expression of the lady changes from amusement to a slight shock: the fan discovers that the content of the vinyl is not Swift's melange pop but a compilation of quirky electronic music from the 90s. In the comment to the uploaded video, Lazarus reveals the source: "As far as record company mistakes go, this has to be one of the finest. Anyone that has bought the Orchid marbled vinyl copy of @taylorswift beautiful Speak Now album is not actually hearing Ms Swift but instead is hearing the incredible HAPPY LAND compilation curated by my best friends and @crosstownrebels team of @edcartwright & @leonjames70. Basically if you bought the vinyl and was excited to listen to Speak Now, you will now be confronted by some of the most bizarre and brilliant music ever made by the likes of Cabaret Voltaire, Ultramarine, Thunderhead and Matthew Herbert. Good luck!!!!"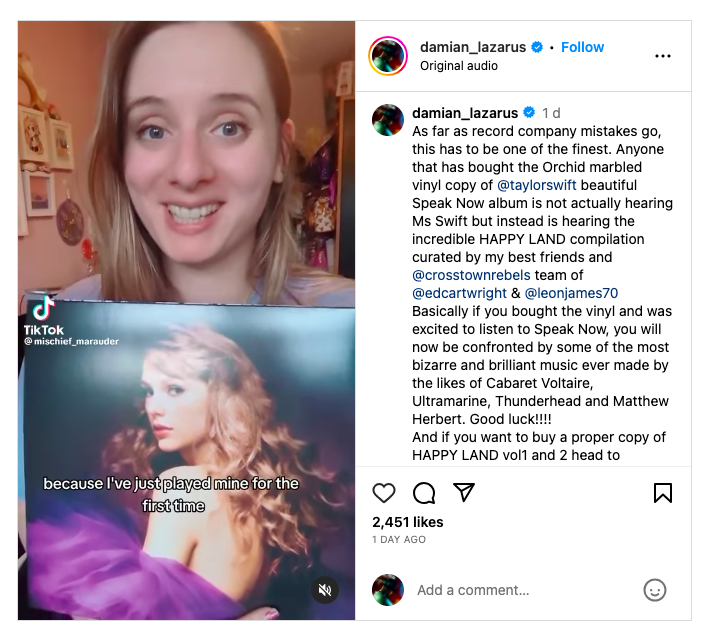 The A Side of what is supposed to be a Taylor Swift new album opens with Cabaret Voltaire's 1992 track "Soul Vine (70 Billion People)". A sample featuring a sinister voice repeating "70 billion people of earth, where are they hiding?" is far from one could expect to hear on the orchid vinyl with a label displaying a Barbie-like image of Taylor. Hence, the reaction of the fan on the video uttering "Please help me". Due to a vinyl mispressing issue, compilation Happy Land: A Compendium Of Electronic Music From The British Isles 1992-1996 Vol. 1, released by Above Board Projects, superseded the Speak Now album. According to Musictech, the number of mispressed copies has not been confirmed.
Considering the fact that the record is out via Republic Records, owned by Universal, one might wonder how on earth this could happen to a record released by a major label. On their front page, Above Board Projects state that the label has unique access to the catalogues and archives of companies including that of majors, Demon Music Group, Sony, BMG, Universal, Henry Stone Music and Warner. Could such mistake be a new concept? Perhaps, if they continued mispressing vinyls on purpose, the label could turn this into a commercially successful strategy. As one Instagram user commented that this inaccurate version could be "a crazy collector item". Another one questioned whether the release was a mistake "or divine intervention".
Yet, instead of taking on a potentially good concept, Universal turned on the boring mode sharing an official statement, acknowledging their mistake: "We are aware that there are an extremely limited number of incorrectly pressed vinyl copies in circulation and have addressed the issue. If you have purchased one of the affected goods, please contact customer service at your respective retailer for a replacement or refund." Very un-punk, very establishment, very predictable.
The Music Void would advise the fan who broke the news to name a decent price when and if she is going to sell it on Discogs. Many would be willing to get this truly postmodern item.