The 'Anti Social Camp,' self-proclaimed as the "world's largest songwriting camp," is set to take place in New York City from June 12 to June 17. This extraordinary event will bring together writers, producers, and artists from across the globe for a series of 100 sessions, shows, and parties throughout the city.
The camp aims to revitalize the music scene in New York City and is positioned as a global festival gathering for creatives. Founded by Danny Ross, a music maker and professor at BerkleeNYC, the camp originated during the peak of the COVID-19 pandemic when a group of music producers joined forces over Zoom to continue their session work during the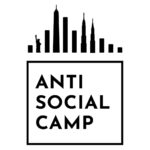 lockdown. With the participation of approximately 150 artists, including Andy Grammer, Moby, Walk The Moon, Grace VanderWaal, X Ambassadors, Cautious Clay, and more, this year's camp promises an exciting lineup.
On May 30, the camp unveiled its official business partners for 2023. These include Amuse as the Title Partner, along with Presenting Partners such as The New York City Mayor's Office of Media + Entertainment, YouTube Music, SESAC, and Cloud Microphones. Contributing Sponsors consist of Sound Royalties, The Orchard Publishing, Amazon Music, Oeksound, BMI, Spotify, Topo Chico, HIFI, Hipgnosis Songs Fund, ABKCO Music & Records, and The Recording Academy New York Chapter.
Additionally, the camp has formed partnerships with various venues and studios, including The New School, Brooklyn Brewery, D'Angelico Guitars, Elsewhere, Invite Only Studios, You Too Can Woo, Platinum Sound Studios, Dimension 70, Flux Studios NYC, 343 Labs, The Bunker, Red Convertible Recording, Fever Dream Studios, Brukkout Productions, Synthia Studio, and Kiara Studios. Amazon Music will also be hosting writing sessions for artists, songwriters, and producers at their Brooklyn office throughout the week.
Danny Ross expressed his enthusiasm for the collaborative spirit of pop music, stating, "Anti Social Camp celebrates the age of collaboration in pop music." Anne del Castillo, Commissioner of the NYC Mayor's Office of Media and Entertainment, added, "We are pleased to partner once again with Anti Social Camp during NY Music Month, which showcases all the ways music contributes to our city's economy and identity as a global creative capital."
As part of New York Music Month, the public will have access to select events during the Anti Social Camp:
– Anti Social Camp Opening Ceremony at The New School, College of Performing Arts (Presented by Sound Royalties) on Monday, June 12, from 10am to 3pm ET, at The New School College of Performing Arts, Lang Center, 55 W 13th St, NYC, 2nd Floor. The event will feature a live recording of the New York Magazine Podcast, Switched On Pop, with celebrity guest speakers.
– Anti Social Women Running Music, in partnership with She Is The Music.
– Anti Social Camp Industry Showcase (Supported by Spotify) on Monday, June 12, from 7:00pm to 10:00pm ET, at Baby's All Right, 146 Broadway, Brooklyn NYC. The showcase will include performances from Walk The Moon, Ant Saunders, Kota The Friend, and over 20 other artists.
The 'Anti Social Camp' is poised to create an extraordinary platform for collaboration and innovation in the music industry, all while invigorating the vibrant music scene of New York City.