Ladies and gentlemen, get ready to rock and roll with the one and only Roger Waters! The Pink Floyd legend is back in the spotlight with his latest controversy. Brace yourselves for a tale of antisemitism allegations, fancy costumes, and protests galore.
Picture this: Several Jewish groups, politicians, and civil society organizations gathered in Frankfurt to rain on Waters' parade. They accused him of being a closet antisemite, but guess what? Waters denied it! Who knew? It's like a game of "he said, she said" with a rock 'n' roll twist.
What's got everyone's knickers in a twist, you ask? Well, it's Waters' support for the BDS movement. That's right, he's all about boycotting and sanctioning Israel. Some folks just can't stand his groove, man. So, what's got people banging their heads? Waters' undying love for the BDS movement. That's right, he's all about boycotting and sanctioning Israel, and it's making a lot of people rock out of their comfort zones
But the show must go on, right?  Frankfurt authorities initially tried to shut down Waters' concert. They claimed that the venue, Festhalle, had some had some very dark "Nazi vibes." Waters, being the rebel that he is, challenged them in court and came out on top. Can't stop the rock 'n' roll, baby!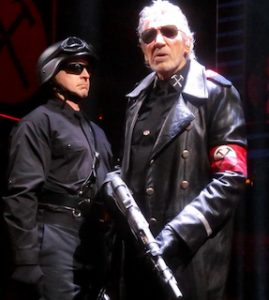 Now, let's talk fashion. Berlin police were like, "Roger, what are you wearing?" Waters strutted his stuff in a long black coat with a red armband, wielding an imitation machine gun. The police couldn't help but think, "Is this a fashion faux pas or a Nazi tribute?" They launched an investigation, but Waters clapped back, saying, "Hey, I'm just fighting fascism, injustice, and bigotry with my snazzy style." Who knew clothing could be so controversial?
As if that weren't enough, Waters' controversial views have caused quite a stir. The protesters in Frankfurt didn't hold back, reading aloud the names of 600 Jews who suffered during Kristallnacht, the "Night of Broken Glass." They even held a joint Jewish-Christian prayer to remember the victims.
"Against this historical background, the concert should not have taken place under any circumstances," said Sacha Stawski, a member of the Frankfurt Jewish community and head of the group Honestly Concerned, that helped organize the protests.
"It's very frustrating" that the concert is going ahead as scheduled even though Frankfurt officials and many others tried to prevent it, Elio Adler, the head of the Jewish group WerteInitiative which supports the protest, told the Associated Press.
"His words and imagery spread Jew-hatred and are part of a trend: to normalize Israel-hatred under the protection of freedom of speech or art," Adler added.
Meanwhile, Munich also got its dose of Waters' rock 'n' roll extravaganza. The city council debated banning his concert, but in the end, they couldn't find a legal way to cancel the contract. Waters is like that never-ending knock-knock joke your friend insists on telling, no matter how many eye rolls and fake laughs they receive. It's as if his stubbornness has become a masterclass in the art of overstaying its welcome.
And let's not forget Waters' Ukrainian escapade. Last year, he found himself in hot water when the city of Krakow canceled his gigs due to his support for Russia in the Ukraine conflict. Waters' rollercoaster of controversies just keeps on spinning!
Love him or hate him, Roger Waters knows how to stir the pot. He's got people waving Israeli flags, handing out flyers, and holding up catchy banners like "Israel, we stand with you" or "Roger Waters, wish you were not here." Who needs a concert when you've got a political circus in town?
So, amidst this whirlwind of controversy, let's not lose sight of the gravity of the Arab-Israeli conflict. It's a complex issue that demands thoughtful dialogue and genuine understanding. If else fails, just blame it on the drummer. After all, in the crazy world of Roger Waters, the beat never stops, and the punchlines keep on rolling. Rock on!