The profusion of music on the Internet might remind one of the Grimm brothers' Sweet Porridge tale where the protagonist struggles to prevent the pot from cooking. While access to various sources makes the search process more complicated, some platforms attempt to simplify the selection.
Earlier The Music Void published an interview with Agnes Chung of Musicube, a B2B online music database structured with help from AI. The technology assigns categories such as genre and mood to thousands of songs and compositions. Sphere Trax, a project that emerged in London in May 2023, has a similar raison d'être, aiming at assisting professionals in the media industry. The platform was co-founded by composers Sefi Carmel and Isaac Short.
A sound designer and composer, Sefi Carmel has been involved in work on A list of Hollywood feature films directed by Ridley Scott, John Woo, Chris Columbus and Kevin Reynolds to name a few. Carmel's interest in technology was sparked by synthesiser sound at the dawn of new wave in Israel, then his home. "What's that sound?' I wondered. What instrument could produce that?" His acute interest in future-oriented instruments led him to study electronics and computer engineering. "I remember asking a teacher about the technical aspect of these instruments and he was giving me bullshit answers. "You really want to understand this? Go and study electronic and computer engineering. So I did".
As a site created for professionals, including musicians, film and video game producers, by musicians, Sphere Trax involves different handy AI-powered tools for music selection. Relying on the text-to-music principle, the technology suggests 150 faders based on the following categories: moods, instruments, cultural, and genre. Thus, one can pick up various tracks depending on not just emotional overtones but also regional specifics, choosing between Brazilian or Cuban, as well as Halloween or Holidays vibes. Still, the emotional aspect is the key, Sefi Carmel reckons.
"As I changed hats between composing and mixing, I noticed that was a real pain in how the music was delivered for the use of media", says Carmel. "I sat a lot in the studio mixing commercials and feature films. I saw that when the need for music rose, the search experience on websites was very list-based, very text-based, very needle in a haystack, and I was also listening to how people described music and people described music with emotional terms, they would ask, "Can we have a happier track?". So that's one of the reasons why the first Sphere Trax is where you can define the faders you want, you can dial in more happiness or more action or more Brazilian feel".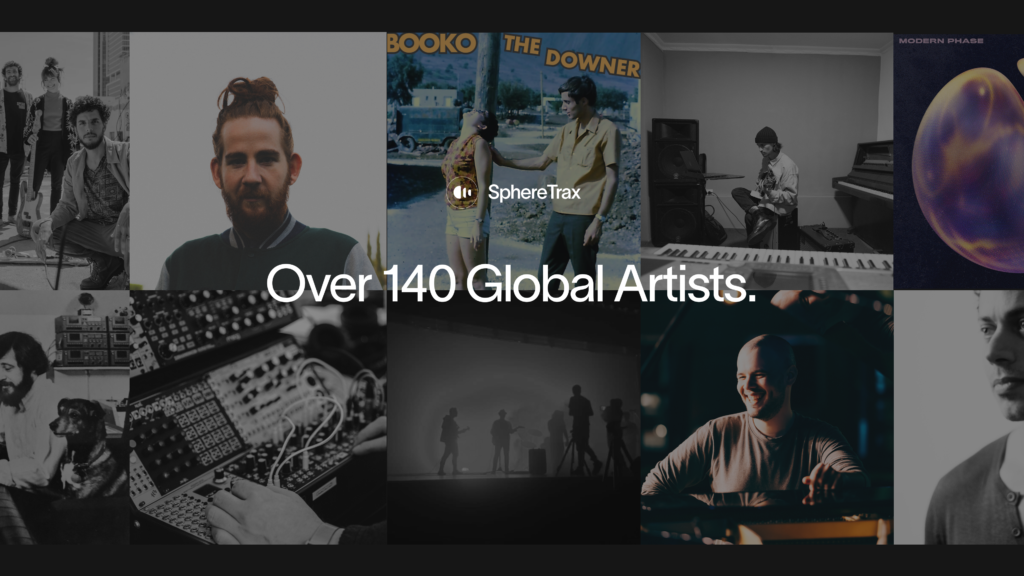 The platform statistics show that Carmel is not alone in his observations. Since May 2023, more than 3000 songs have been uploaded, selected from 48000 submitted tracks. Artists from all over the world hope for their music to be accessed by the professional community. Sefi Carmel emphasises the role of the platform in supporting both sides of the target group. "One side is a global community of musicians that we are creating, we have musicians from usual territories like the US, the UK and Germany but also musicians from Mongolia, Fiji, the Virgin Islands and Japan. So we are really building a community of musicians. And it's important for us to emphasise the story of these musicians, the fact that they are human. I think people want to buy and consume music knowing where it comes from, connect to the story of the musicians who created it rather than simply face this platform". The artists whose works are uploaded to Sphere Trax get at least 50% of the revenue from the purchase of their product.
One of the outstanding features of the platform is an opportunity to mix tracks in Dolby Atmos. Any composer submitting their work can use the technology which would add noticeable dynamics to the sound. "I work a lot in Atmos mixing film and composing for films", adds Sefi Carmel. "One of the things about Atmos apart from spatial elements is also the fact that it allows music to be very dynamic. There is room for a much bigger dynamic range". Aside from the optional Dolby Atmos feature, the team guarantees free mastering for all accepted tracks.
While exploring Sphere Trax, one can find the platform as useful as it is entertaining. Just testing it by playing with faders is fun, almost like entering the realm of a video game. It's worth trying regardless of your involvement in the media industry. Irrespective of its entertaining aspect, the platform gives precisely what's needed therefore the industry professionals will find the choosing rewarding.