Well, well, well, look who's scared of AI now. Universal Music Group (UMG) is throwing a hissy fit because someone dared to use AI-generated soundalikes of two of their biggest artists, Drake and the Weeknd, in a song called "Heart on My Sleeve." Chairman-CEO Lucian Grainge even went as far as saying that the "explosive development in generative AI" will create "rights issues with respect to existing copyright law" and that "any way you look at it, this oversupply, whether or not AI-created is, simply, bad. Bad for artists. Bad for fans. And bad for the platforms themselves."
Wow, Lucian, tell us how you really feel. Are you worried that AI-generated music will be more popular than your overhyped, overproduced, and underwhelming artists? Is that why you're throwing a tantrum and trying to scare everyone with your legal jargon?
But let's give credit where credit is due, UMG did have a good quarter, thanks to big releases from Morgan Wallen, Taylor Swift, Tomorrow X Together, Drake, and others. Their revenues rose 11.5% year over year to $2.71 billion, with streaming and subscriptions up nearly 10% to $1.47 billion and physical revenue soaring 32% to $346 million (probably because of Taylor Swift's latest album, "Midnights").
UMG's chief digital officer, Michael Nash, even chimed in with some witty banter, saying "We own all sounds captured on our sound recordings. Soundalikes confuse the public." Oh Michael, you're such a card.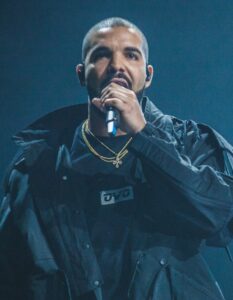 But the real kicker is when Lucian started talking about UMG's plans for a new streaming model called "artist centric." Apparently, they want to "redefine the streaming model in a manner that appropriately rewards those artists whose music drives fans to engage." Translation: UMG wants to make sure that their artists get all the money and everyone else can stick it.
Lucian then went on a rant about "junk" content on platforms, which he refers to as "low-royalty, low-engagement background music." Lucian, sweetheart, have you ever heard of elevator music? It's been around for decades and it's been putting people to sleep and making them want to jump out of windows. But sure, blame AI for everything.
The good news is that Lucian does see the potential in AI, but only when it's "properly developed and employed." He even says that UMG already uses AI to "identifying new audiences for our artists, optimizing the production, mixing, and mastering of recordings, and enhancing the quality of music experiences."
So, in summary, UMG had a good quarter, but they're still scared of AI-generated music because it might be better than their own artists. They want to make sure their artists get all the money and everyone else can go pound sand. But they do see the potential in AI, as long as it's on their terms.
Well, Lucian, we wish you and your artists all the best in your quest for world domination. May your music continue to put people to sleep, and may your legal team continue to scare everyone with their big words.
But the real question is, will we finally get that Drake and Taylor Swift duet we've been dreaming of?  Only time will tell.