Adobe Photoshop's AI Generative Fill feature does wonders elaborating on famous artworks. The Beatles, Nirvana, Muse and Metallica are among those whose album covers received Generative Fill treatment.
As The Music Void reported earlier, the new generative AI feature of Adobe Photoshop relies on the "word painting" principle. The programme designs an image following the description given by a user. Recently, a few results showing expanded versions of well-known covers have been shared on social media. The creators have been using the feature to develop the scenery as well as add new elements such as clothes or funny alien creatures.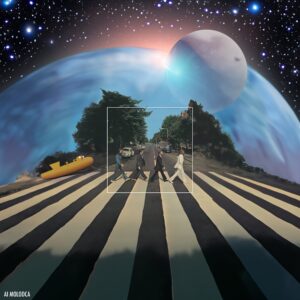 User Dobrokotov aka AI Molodca shared a few expanded covers on Twitter. While the original artworks are well-embedded into the AI-generated scenery, the imagery doesn't seem too elaborate. For instance, The Beatles' Abbey Road predictably contains images associated with the collective's songs from other albums, e.g. a yellow submarine (obviously "Yellow Submarine") and the universe ("Across The Universe"). For now, the new feature proves itself as a form of entertainment rather than a serious design tool. But time will tell.