The tales of Taylor Swift's Eras Tour are numerous and, at times, distressing. It's a rollercoaster ride filled with disappearing tickets, desperate fans, and perplexed sellers. Hold on tight as we dive into the hilarious and bewildering world of ticket resale for Taylor Swift concerts, brought to you by the venerable Wall St. Journal.
Picture this: Ginene Travia, a devoted Taylor Swift fan, had grand plans to take her 17-year-old daughter to a concert in Philadelphia. But just nine days before the big day, tragedy struck. The nosebleed tickets she purchased for a whopping $1,000 were unceremoniously canceled. StubHub, the resale site where she bought the tickets after failing to score face-value seats on Ticketmaster, offered her alternative tickets. However, there was a small problem—there were no tickets available at a similar price. Panic ensued as Ginene frantically refreshed the page, scoured parent groups, and even offered her best friend $1,000 for her ticket. Finally, she caved and splurged $5,500 on floor tickets. At least StubHub had the decency to refund her $4,500 towards the difference. What a steal!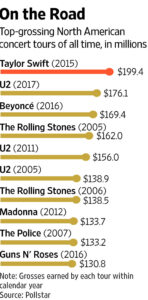 The demand for Taylor Swift tickets has reached astronomical levels, overshadowing even the biggest names in the music industry. According to StubHub, Taylor Swift's tour sales this year have left Bruce Springsteen, Morgan Wallen, Coldplay, Adele, Beyoncé, and even the Super Bowl in the dust. Dollar sales are seven to thirteen times higher than these superstars. It seems Taylor Swift is the new queen of the musical universe.
In the wild world of ticket resale, other platforms are facing similar challenges. Low inventory and sky-high prices have made life difficult for professional ticket brokers trying to fulfill orders. As if that weren't enough, an army of novice fan sellers, eager to make a quick buck, has descended upon the scene, resulting in a comedy of errors during transactions.
Enter Brett Goldberg, co-chief executive of TickPick, a ticket resale platform. He heroically pledged to fulfill 100% of orders for the Eras Tour, going to great lengths and spending hundreds of thousands of dollars to make sure fans get their entry tickets. He aptly compared the situation to "50 Super Bowls going on all at once." Talk about a challenge!
StubHub, known for its abundance of fan sellers, has seen an unprecedented surge inTaylor Swift ticket orders from these well-meaning amateurs. In fact, 70% of orders on their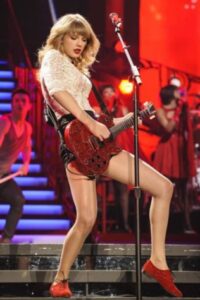 platform come from fans rather than seasoned scalpers—a staggering double of the usual proportion. Unfortunately, 63% of the ticket orders with issues are from these enthusiastic yet bumbling sellers. They may be new to the game, but hey, they're trying their best!
To cope with the chaos, StubHub has implemented new communication strategies and processes. They've tightened the deadline for sellers to deliver tickets and have even introduced the radical concept of making phone calls to help sellers who forget to confirm ticket transfers. StubHub is determined to make things right, offering assistance to buyers in selecting replacement tickets and ensuring they either get comparable or superior seats or a full refund.
But here's the punchline: when StubHub prompts buyers to search for comparable listings, they often come up empty-handed. It turns out there aren't similar seats available at the original prices. So, they graciously refund buyers the difference between the replacement tickets' cost and the original price. How thoughtful!
Michelle Pearson, a 39-year-old from Salt Lake City, had her own share of ticket troubles. Imagine planning a girls' trip to Taylor Swift's concert in Nashville, securing tickets for $300 each on StubHub. Just one night before the show, the group received a heart-stopping notification that their tickets had been canceled. Cue the dramatic music! After frantic calls, pleading, and a generous intervention from a friend's mom, they managed to snag tickets for over $2,000 each. StubHub, realizing their monumental goof-up, threw in a $6,000 credit for good measure. It's like a sitcom, but with higher stakes!
The high demand for Eras Tour tickets has even thrown professional ticket brokers off their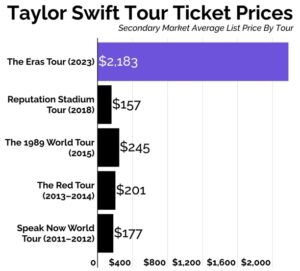 game. Speculative ticketing, their time-honored tactic of holding out on delivering tickets until prices drop, has been foiled by Taylor Swift's unstoppable popularity. The prices refuse to budge, and inventory is as scarce as a parking spot in downtown Manhattan. Brokers are left with two choices: cancel orders and incur penalties or pay the difference to fulfill their promises. Tough luck, brokers!
In the midst of this comedic chaos, dedicated Swifties are valiantly striving to attend their idol's concerts. The fan presale encountered technical glitches, leaving fans waiting for hours in virtual queues. Ticketmaster, overwhelmed by the demand, eventually canceled general ticket sales, leaving only registered fans in the running. Ticketmaster claims that less than 5% of Eras Tour tickets have made it to the secondary market, a minuscule number compared to non-Verified Fan shows. Swifties are proving their loyalty by attending the concerts instead of selling their tickets, even though it could pay three months' worth of rent. Good work, Swifties!
The Eras Tour has unleashed pandemonium in the resale market, resulting in a laughable array of mishaps and misadventures. Taylor Swift's fans and sellers are caught in a whirlwind of disappearing tickets, exorbitant prices, and amateurish blunders. However, hope still glimmers on the horizon. Ticketmaster is gradually releasing tickets to registered fans, and StubHub is offering their heartfelt guarantee. So, Swifties, keep your spirits high, your wallets ready, and your sense of humor intact. Who knows, you might just end up with the concert experience of a lifetime— or maybe you'll just end up broke and disappointed.