Kanye West is in a pickle. His career is in shambles, and he's starting to look like a joke. Kanye West is a living meme. He's a cautionary tale about the dangers of fame and fortune, like a walking disaster, a train wreck, and a national treasure all rolled into one. He's the best thing to happen to comedy since the invention of the fart joke.
It all started when he announced that he was running for president. At first, people thought it was a publicity stunt. But then he started saying some really crazy stuff, like that slavery was a choice. Move over, Lincoln and Roosevelt – a new visionary has arrived.
Then he started beefing with everyone. He dragged his ex-wife and her fleeting boyfriend, Pete Davidson. He started hanging out with seditionists and Neo-nazis. He called out Taylor Swift, he dissed Drake, and he even got into a fight with his own fans.
At this point, it's hard to take Kanye seriously. He's just a laughingstock.
In a further twist the knife, Adidas announced last Friday that it will begin selling its more than $1 billion worth of leftover Yeezy sneakers later this month, with the proceeds to be donated to various anti-racism groups. The German sportswear brand said recipients will include the Anti-Defamation League, which fights antisemitism and other forms of hate.
This is a great move by Adidas. It's always good to see companies doing their part to help fight racism and hate. But let's be real here: Adidas is only doing this because they have a ton of unsold Yeezys sitting around in their warehouses. Yeezys just suck.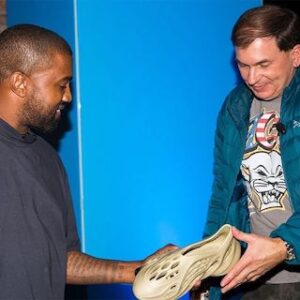 I mean, who buys these things? They're just shoes! And they're not even that good-looking. I don't care how much Kanye West is involved in their design process.
First of all, they're made with the lowest quality materials. The leather is like cardboard, and the stitching is like a drunk toddler did it. Second, they're incredibly uncomfortable. You could wear them for five minutes and your feet would feel like they've been run over by a truck. Third, they look like they were designed by a blind monkey. They're ugly, they're bulky, and they make you look like a complete tool.
But hey, if you're one of those people who loves Yeezys, now's your chance to get them at a discount.
Kanye's foray into the world of fashion has been a real rollercoaster ride, with our hero strutting around in a full-body fur suit on a scorching summer day. Who needs practical clothing when you can have oversized, torn sweaters that cost a small fortune? Kanye's fashion line is a testament to his impeccable taste and his commitment to making sure the world knows just how stylish he is. After all, what's more important than wearing clothes that make you look like you raided a thrift store while simultaneously bankrupting yourself?
If there's one thing Kanye has taught us, it's that excess is the secret to happiness – forget about finding inner peace; just buy a solid gold toilet and call it a day.