Brighton-based indie rock duo Royal Blood commented on the rude remarks they made during their show at BBC Radio 1's Big Weekend festival a week ago. Being frustrated with the audience's languid reaction to their set, the band's frontman Mike Kerr addressed the crowd with the following defensive statement: "We're called Royal Blood and this is rock music. Who likes rock music? Nine people, brilliant. This is Ben Thatcher, he plays drums, everybody say hi to Ben, please." Not satisfied with the applause, Kerr added: "We're having to clap ourselves because that was so pathetic. Well done, Ben." The musician then allegedly turned to a camera-man, saying: "Will you clap for us? You clap? You're busy. Can you clap? Yes, even he's clapping." Turning to the crowd again, he asked: "What does that say about you?". Following this bizarre monologue, both band members rushed off the stage with Kerr giving the middle finger.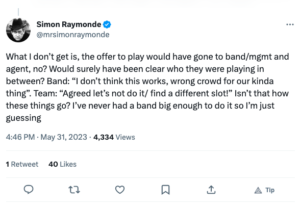 This rant inevitably received deserved criticism. The Guardian called Kerr's speech "I AM THE ELDEST BOY!" of pop petulance while The Tab characterised his behaviour as "immature". Considering the Sunday line-up of the festival, the band must have indeed not been a perfect fit as they played before The X-Factor star Niall Horan and Scottish singer Lewis Capaldi. Yet, some industry professionals made a good point wondering why the band agreed to perform in the first place. Sharing his thoughts on Twitter, Bella Union's founder and former Cocteau Twins member Simon Raymonde wrote: "What I don't get is, the offer to play would have gone to band/mgmt and agent, no? Would surely have been clear who they were playing in between? Band: "I don't think this works, wrong crowd for our kinda thing". Team: "Agreed, let's not do it/ find a different slot!" Isn't that how these things go? I've never had a band big enough to do it so I'm just guessing".
Speaking to Greg James on Radio 1 on Monday 5 June, Mike Kerr said that his actions "meant no offence". "I didn't feel like I'd done anything morally wrong," he concluded.