In a move that is sure to make taxpayers everywhere scratch their heads, the government has given away hundreds of millions of dollars in COVID relief funds to some of the richest and most famous musicians in the world.
Remember the good ol' Paycheck Protection Program (PPP) loans? Well, it's like history repeating itself, but with a rockstar twist. Back then, taxpayer money meant for small businesses got siphoned off by bigwigs like former President Donald Trump, reality TV celebs, and global fast food chains. At least they had to jump through a few hoops, although, let's be honest, those hoops looked more like hula hoops.
That's right, Post Malone, Nickleback, and Steve Aoki are just some big-name acts that have received millions of dollars in taxpayer money from the Shuttered Venue Operators Grant (SVOG) program.
The SVOG program was created to help independent arts and events venues stay afloat during the pandemic. But it seems that some of the money has found its way into the pockets of musicians who were already doing just fine financially.
For example, Post Malone's company received the same amount of money that was given to the entire city of Austin, Texas! And it's just a fraction of the $200 million that went to big-name recording artists in total.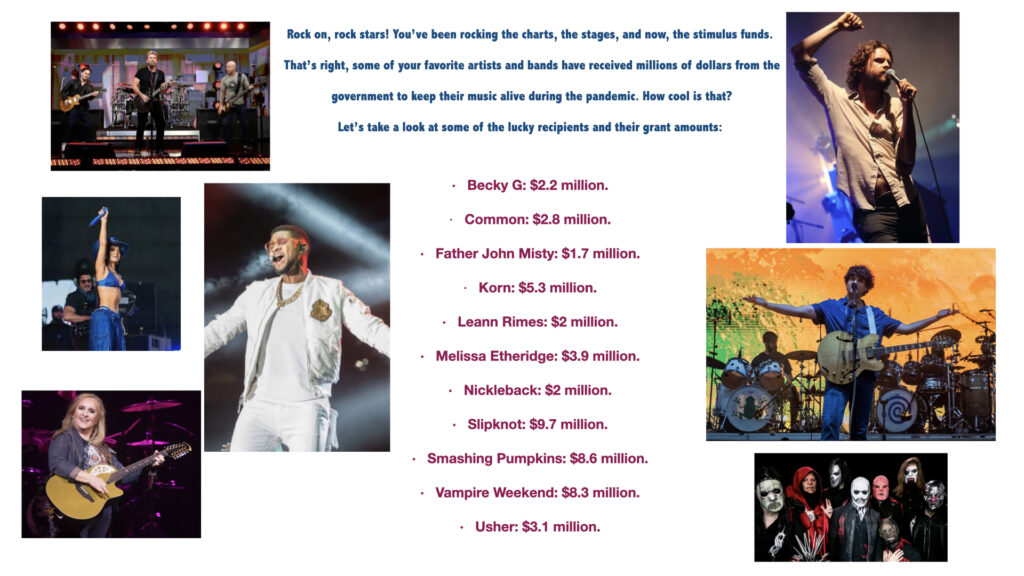 Now, here's the punchline that'll leave you clutching your sides: the funds from the Congress-approved Shuttered Venue Operators Grant don't need to be repaid. It's a "keep it forever" deal! So, you're telling me that these music moguls with wallets thicker than a bass guitar string on steroids just scored millions that they'll never have to give back? Yep, you heard that right. It's like winning the lottery and the ticket is made of pure gold. Legal? Sure. A bit eyebrow-raising? Absolutely!
Hold your applause, because it gets even juicier. The Small Business Administration is keeping the secrets locked up tighter than a virgin backstage at a metal concert. None of the artists named in the report have spilled the beans on how they splashed that grant money. As for the SBA, they're just mumbling about "confidentiality of business records" while hiding under their desks.
Of course, these musicians are technically allowed to use the money however they want. But it's hard to believe that they really need it. Let's talk numbers, shall we? According to reports, Post Malone's corporation (worth a reported $30 million) managed to snag a cool $10 million from the SBA, enough to buy a mountain of those fancy Magic: The Gathering cards he adores. Chris Brown's company, not to be outdone, also snagged a 10 million-dollar bill. Steve Aoki, the Benihana-beatmaster, didn't trail far behind with a sweet $9.9 million. And the list goes on, from Becky G to Slipknot, it's a rockstar roll call that makes you wish you could play a guitar like ringing a bell.
So, why on earth would our beloved rock stars ever need a government bailout? Could it be that they were running short on Italian sports cars? Or maybe, just maybe, they were feeling a little too insecure about their bank account balances, and they thought, "Hey, why not add a few extra zeroes for good measure?"
Whatever the reason, it's clear that the Shuttered Venue Operators Grant (SVOG) program was like hitting the jackpot for some lucky folks. The only teeny-tiny problem is that we have absolutely no clue who those lucky folks actually are.
Of course, we mere mortals would love a bit more clarity from our government about where exactly our hard-earned taxpayer dollars are going. Call me crazy, but maybe, just maybe, those funds should be channeled toward those who are genuinely in dire need.
In the meantime, we can all enjoy the irony of seeing rich musicians getting a government bailout while so many struggle to make ends meet.
It's a real rock and roll comedy. 🤘