If you happened to have been strolling down Sunset Blvd. sometime in the mid-'60s, you more than likely would have run across a dirty, disheveled homeless guy belting out nonsensical, erratic, a cappella performances of "new kinds of songs" that he composed on the spot. His name was Larry Fischer, aka Wild Man Fischer.
Fischer was born in Los Angeles on November 6, 1944. He had a turbulent childhood, marked by frequent mood swings, violent outbursts, and auditory hallucinations. He was diagnosed with paranoid schizophrenia and bipolar disorder and was repeatedly sent to mental institutions as a teenager. His mother would scold him, his father would beat him, and his brothers would mock him. He dropped out of high school and became a street performer, offering to sing for a dime or a nickel to anyone who would listen. He sang in a loud, high-pitched voice, accompanied by clapping, stomping, and occasional guitar strumming. He would make up songs on the spot that were funny or sad or angry or crazy or all of the above.
In 1968, he caught the attention of Frank Zappa. Zappa was intrigued by Fischer's unique style and decided to produce his debut album, "An Evening with Wild Man Fischer". The
double LP consisted of 36 tracks, mostly recorded live in Zappa's home studio or on the streets of Los Angeles. The album showcased Fischer's range of emotions, from joy to anger to sadness, as well as his bizarre sense of humor. Some of the songs were catchy. Others were disturbing and dark. The album also included conversations between Zappa and Fischer, revealing Fischer's paranoia, delusions, and insecurities.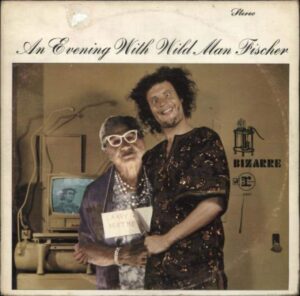 The album was released on Zappa's Bizarre label, which specialized in experimental and unconventional music. It received mixed reviews from critics and listeners, some of whom praised Fischer's originality and authenticity, while others dismissed him as a novelty act or a freak show. The album sold poorly but gained a cult following.
He gained some visibility and even opened for bands like The Byrds, Iron Butterfly, Solomon Burke, and Bo Diddley, where he received applause or boos from the crowds. He met other artists who appreciated his talent and eccentricity, such as Kim Fowley, Rodney Bingenheimer, R. Stevie Moore, Weird Al Yankovic, David Byrne, Rosemary Clooney, and The Beatles. He even collaborated with some of them on various projects, such as albums, singles, songs, and documentaries. Barnes & Barnes, the comedy music duo best known for their hit song "Fish Heads", produced two of his albums (Pronounced Normal and Nothing Scary) and featured him on several of their songs ("Wild Man On The Strip Again", "The Bouillabaisse", "The Garbage Man"). Mark Mothersbaugh, the co-founder and lead singer of Devo, produced his album "Who Did It? John or Paul? and included him on his solo album Joyeux Mutato ("Larry's Lament"),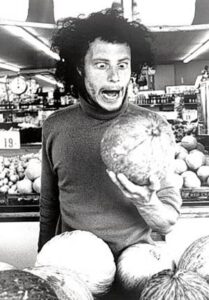 He appeared on TV shows like "The Dating Game" and "Rowan & Martin's Laugh-In", where he was invited by Frank Zappa, who was a guest star on the show. Fischer was supposed to perform one of his songs, "Merry-Go-Round", but instead he decided to improvise a new song on the spot, called "Monkeys Versus Donkeys". He sang it with such enthusiasm and gusto that he startled the host, Dan Rowan, who tried to cut him off by saying "Thank you, Wild Man". But Fischer ignored him and kept on singing until Rowan finally grabbed him by the arm and dragged him off the stage. The audience was stunned and amused by this unexpected display of madness. You can watch the clip of this memorable moment here
Fischer's eccentric personality provided some truly unique music, but his mental problems rapidly ended his career. Fischer had paranoia and schizophrenia and thus became impossible to work with. His relationship with Zappa soon deteriorated due to Fischer's erratic behavior and Zappa's lack of patience. The final straw came when Fischer threw a bottle that nearly hit Zappa's daughter Moon. Zappa cut off all ties with Fischer and refused to work with him again. Fischer was devastated by this rejection and felt betrayed.
Larry continued to perform on the streets and in clubs throughout the 1970s and 1980s. He also recorded several albums for various labels, such as Wildmania (1977), Pronounced Normal (1981), Nothing Scary (1983), Who Did It? John or Paul? (1988), The Fischer King (1999), Lost And Found Songs (2004), and Larry Comes Alive (2008). These albums featured more polished production and musical accompaniment than his debut album but still retained his signature style and personality.  Some of his most famous songs were "The World's Most Dangerous Man", "Hey You!", "My Name Is Larry", "I'm Crazy", and "I'm Going to Kill You". I can certainly relate to several of these tunes.
He faced many challenges and hardships, such as poverty, homelessness, addiction, abuse, exploitation, and isolation. He was often harassed or ignored by the public, who saw him as a nuisance or a freak. He was also frequently hospitalized or institutionalized, where he received electroshock therapy and medication that affected his mood and creativity.  He had few friends and no family, except for his brother David, who occasionally helped him out. He never married or had children. His life was not easy.
Larry's health deteriorated in his later years. He suffered from diabetes, heart problems, and kidney failure. He also became more reclusive and paranoid, avoiding contact with most people. He died on June 16, 2011, at the age of 66, in his apartment in Los Angeles.
Fischer's legacy lives on through his music and his fans. His friend Josh Rubin made a documentary about his life, Derailroaded: Inside the Mind of Larry "Wild Man" Fischer", that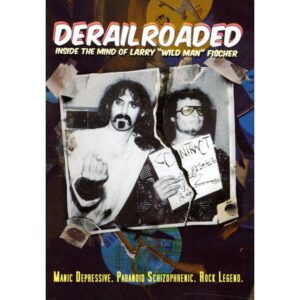 premiered at South by Southwest in 2005. His songs have been covered by artists such as The Residents, The Frogs, The Legendary Stardust Cowboy, Jad Fair, Daniel Johnston, and Half Japanese. His albums have been reissued by Rhino Records, Cordelia Records, Norton Records, and Demented Punk Records. His fans have created websites, blogs, podcasts, tribute albums, and fan clubs dedicated to him. His influence can be seen in many genres of music, such as punk rock, indie rock, alternative rock, experimental music, and comedy music. He is considered to be the godfather of outsider music.
Larry "Wild Man" Fischer created one-of-a-kind music. He was a wild man who sang wild songs for a wild world. He was proud of his life, proud of his music, proud of himself. He had done what he wanted to do, he had sung what he wanted to sing, he had been who he wanted to be. He had been Wild Man Fischer, and he had been happy.
"I'm Wild Man Fischer
And I don't care
I sing my songs
To the air
I'm Wild Man Fischer
And I'm free
I sing my songs
For me
I'm Wild Man Fischer
And I'm wild
I sing my songs
Like a child
I'm Wild Man Fischer
And I'm happy
I sing my songs
For you to see"