So, it's official. 2023 is the year of the $1,000 concert ticket. And I'm not even a little bit surprised.
After all, why would artists charge less for tickets when they know that fans are willing to pay more? It's basic economics, people.
Take Taylor Swift's "Reputation" tour, for example. A pair of tickets to the show sold on a secondary ticket site for a whopping $100,000 each. That's more than the average person's annual salary! And it's not just Taylor Swift who's charging sky-high prices for concert tickets. Adele's Las Vegas residency had tickets starting at a face value of $750 each, and Michael Jackson's "This Is It" tour had tickets going for $500 a pop, face value.
The average resale price for concert tickets on SeatGeek has more than doubled since 2019, from $125 to $252 so far in 2023. For sold-out acts such as Taylor Swift, Beyoncé and Bruce Springsteen, that number jumps to $1,311, $480 and $469, respectively.
So what's driving this insane demand for concert tickets? Well, the Wall Street Journal article "The Year of the $1,000 Concert Ticket" offers a few possible explanations.
The rise of social media has made it easier for fans to connect with their favorite artists and learn about upcoming shows. This has led to a more passionate and dedicated fan base, which is willing to pay more to see their idols live.
The increasing popularity of live music festivals has created a demand for tickets to see multiple artists in one place. This is especially true for younger fans, who are more likely to be interested in seeing a variety of genres and artists.
Lastly, the aging population means there are more people with disposable income who are willing to spend it on concert tickets. This is because older people tend to have more money saved up and are less likely to have children to worry about.
Of course, the rising cost of touring is also a factor. Artists have to pay for things like transportation, accommodations, and crew salaries, and these costs have been going up in recent years. As a result, artists have to charge more for tickets in order to make a profit.
It all started with an elusive golden ticket—a VIP pass that guaranteed unprecedented access to an unforgettable evening with, say, KISS. Little did we know that grabbing a Mountain Dew at a meet and greet with Ace Frehley (at a very safe distance, mind you), would hold our bank accounts hostage.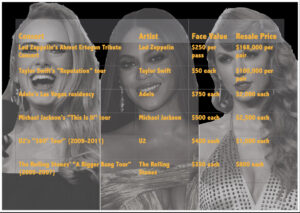 One typical money grab is the Reunion Tour, where bands tease us with well-received comebacks, prompting speculation about intentional discomfort through ticket pricing. From Fleetwood Mac to the Eagles, rock icons raise questions about the purpose of these reunions.
Then there's Pop Legend Pomposity, exemplifying musical royalty with lavish, memorable performances. Madonna, Lady Gaga, and Beyoncé justify high prices by delivering unforgettable spectacles adorned with elaborate theatrics and costumes.
Festival Frenzies, like Coachella and Glastonbury, also command attention. Despite being multi-artist events, they have a magnetic appeal. These festivals offer a taste of musical paradise, creating an experience so captivating that attendees might trade their firstborn for a chance to party in the dust and mud.
So what can fans do to afford to see their favorite artists live? Well, they could start by saving up their money for months or even years in advance. They could also try to buy tickets from a reputable reseller, but be prepared to pay a premium. And finally, they could just accept the fact that they're never going to be able to afford to see Taylor Swift live.
What can be done to address the problem of high concert ticket prices? There are a number of things that can be done to address the problem of high concert ticket prices:
Government legislation to cap ticket prices is a controversial approach. Some people argue that it would stifle competition and innovation in the ticketing industry. Others argue that it is necessary to protect fans from being exploited by ticket sellers.
Ticket sellers are already taking some measures to prevent scalping, such as requiring buyers to provide identification and limiting the number of tickets that can be purchased by one person. But these measures are not always effective.
Artists are often reluctant to donate a portion of their ticket sales to charity because they feel that they should be compensated fairly for their work. However, some artists have agreed to do so, and it can be a positive way to make tickets more affordable for fans.
Boycotting concerts is a drastic measure, but it can be effective if enough fans participate.
And there you have it! The $1000 concert ticket—the singular sensation that transformed our music-loving experience from simple enjoyment to an extravagant affair.
So, the next time you find yourself burning holes in your wallet for the chance to witness music history live, don't forget to thank those legendary acts who paved the way for this costly cultural phenomenon. For better or worse, this is the era of jaw-dropping ticket prices—and it seems like there's no way out.
But hey, at least we still have Spotify, right?