"I don't know your name so I'm going to call you Finsbury Park". Jarvis Cocker's get-to-know opening speech at the Pulp reunion show in London follows a sequence of teasing messages on the screen and his eventual appearance to the mysterious string arrangement of "I Spy", with the visuals at the back of the stage displaying the rising full Moon. Scenes from films such as Spike Jonze's Her and Woody Allen's Sweet and Lowdown come to mind. The whole experience is inevitably cinematic, with video fragments from digitised VHS tapes showing the band before their commercial breakthrough.
Returning to Finsbury Park twenty-five years after their show in 1998, perennial Pulp are genuine and seemingly happy to play again. This is the band's second reunion since 2013. Despite their status as Britpop legends, there is no sense of stardom but kinship. Their frontman emanates generosity, performing cheetah-like jumps up the neon staircase and treating fans with grapes and chocolates. It's obvious that the affection is mutual – the crowd still visibly ignites Jarvis which he admits later: "Without the audience playing the music is just rehearsal".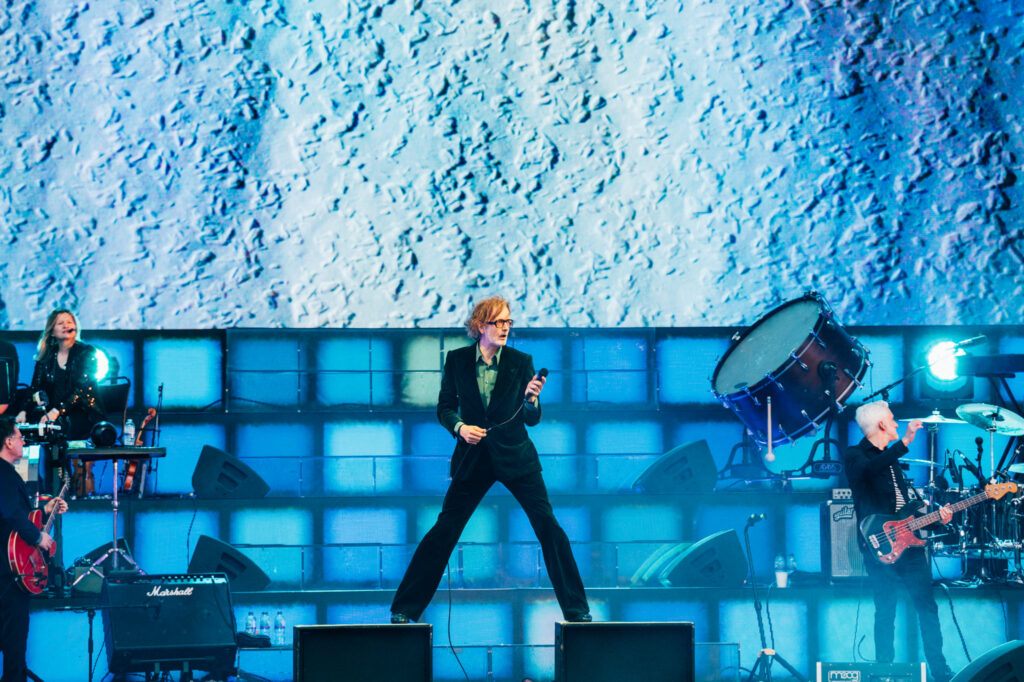 Neglecting the technology evoked by the teasing screen messages, Jarvis Cocker reassures the audience (quite a few, indeed, needed to be reassured) that everything happening on the stage is tangible. "We are real, we are not computer-generated and we are not any kind of augmented reality or anything like that. We are real. You are real". He was questioning the future in a similar way at Finsbury Park in 1998, reciting the first line of Pulp's song "Sorted For Es And Whizz": "Is this the way they say the future's meant to feel?". Just as then, the message resonates with the fans presenting age groups ranging from 10 to 70. Some of them came from places as distant as Brighton and Poland. 45,000 now, as opposed to 20,000 twenty-five years ago. Partly, the higher number can be due to the high-profile support acts such as Baxter Dury and Wet Leg, both of whom tap into Pulp sensibility. The former performs a quirky dance combined with occasional undressing. During his set, Dury effortlessly delivers dramatic Shakespeare-esque monologues to impeccable electro-pop and punchy hip-hop. With their tuneful songs and misleadingly juvenile presence, Wet Leg are treated as one of the contemporary Britpop dearies. The crowd is certainly charmed by them.
At their sold-out London show, Pulp's three long-lasting members, Jarvis Cocker, Candida Doyle and Nick Banks, are joined by Emma Smith on violin and guitar, Andrew McKinney on bass, Adam Betts (percussion, guitar and keyboards) and Elysian Collective string section led by Rich Jones. They play "Something Changed" as a tribute to Pulp's late bass player Steve Mackey. Despite being meant as a eulogy, the ballad about an unexpected life-changing meeting from their 1995's Different Class album adds a romantic note to the performance. "This is the only Pulp song that people that had stopped on streets said, "We got married to your song", they are not gonna say "We got married to "This Is Hardcore".
Trademark dark humour aside, Pulp and Cocker, in particular, do not lack in romanticism. A poem by E.E. Cummings serves as an intro to "Like A Friend", a song about an unconventional kind of friendship. "There is a moon sole / in the blue / night / amorous of waters / tremulous, / blinded with silence the undulous heaven yearns where / in tense starlessness / anoint with ardour / the yellow lover / stands in the dumb dark / svelte /and /urgent". "Think about that when you see the Moon later, svelte and urgent", Jarvis Cocker adds in a low voice.
Travelling back in time across their discography, Pulp give the audience the desired reminiscence with hits "Do You Remember the First Time?" and "Common People" – the bittersweet sound and lyrics combining sexual drama with irony make one sigh, another squeal with delight and the third covering their face with hands as if they were about to start crying. The sci-fi sound of Candida Doyle's Farfisa Compact still has a dizzying effect similar to the relevant Pulp video inspired by Tony Hill's Downside Up.
Stunningly, the band comes back for an encore despite the tour slogan suggesting there will be none ("This is what we do for an encore"). The first Pulp single "Razzmatazz" is chosen as the final song of the evening. "Music is about connection. […] To play this song again is great because it means we still communicate something".
On the way back from the venue, the crowd walking down Seven Sisters Road expresses cheer in various ways. Two ladies welcome all policemen with high-fives (which they accept). Some men croon a chorus from "Little Girl (With Blue Eyes"). Up in the sky, the full Moon grins.
Photo credit: Sarah Louise Bennett.