The 41st Canadian Music Week (CMW) kicked off at the Westin Harbour Castle in Toronto last week, with a jam-packed schedule of events and performances. The evenings were filled with some of the brightest new and established Canadian artists, including Charlotte Cardin, Tumble, Fuego, Grace May, Virginia To Vegas, and Badflower. The days were saturated with a series of expert panels covering topics from sync licensing to Afrobeats to new release marketing strategies.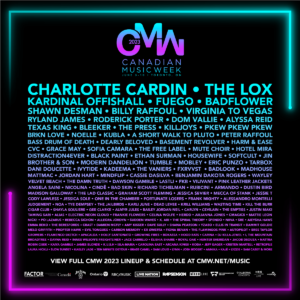 CMW is the largest music industry conference and festival in Canada, and it brings together over 50,000 music industry professionals from around the world. The event is a great opportunity for Canadian artists to network with industry insiders, get feedback on their music, and learn about the latest trends in the music industry.
This year's CMW was particularly notable for its focus on diversity and inclusion. The festival featured a number of panels and workshops on topics such as gender parity, Indigenous representation, and accessibility in the music industry. CMW also partnered with the Black Music Action Coalition (BMAC) to host a number of events that highlighted the contributions of Black artists to the Canadian music scene.
Overall, the 41st Canadian Music Week was a highly successful event that provided a platform for Canadian artists to showcase their talents and connect with industry professionals. The event also helped to raise awareness of important issues such as diversity and inclusion in the music industry.
TMV was in attendance and found that overall the conference was very informative. We've picked out a couple of particularly interested panels to report on. Today we are posting Part One, which will cover a selection of CMW's Day One's panels followed tomorrow by Day Two and Day Three on Friday.
Artificial Intelligence and Safeguarding Human Artistry
AI experts and music industry leaders to discuss recent advancements in the field of artificial intelligence, the value that AI presents as a tool to unlock creativity in the industry, and also the risks that the technology poses if the creators behind our favorite music can no longer control how their art is used. Panelists will dig into the potential of the technology and how music and the broader creative industries are coming together to protect human artistry.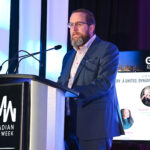 Patrick Rogers, CEO of Music Canada, delivered a keynote discussing the importance of copyright and licensing in the music industry. He pointed out that the recent rise of AI-generated deepfakes poses a new challenge to copyright protection, as it allows anyone to create a realistic-sounding song using the voice of a famous artist without their permission. Also discussed were the potential benefits of AI for the music industry, such as its ability to help artists create new music, personalize music recommendations for listeners, and detect copyright infringement. However, he warned that it is important to ensure that AI is used in a way that protects the rights of artists and creators.
The panel, moderated by Miranda Mulholland, Artist and Creative Culture Advisor, Music Canada, featured Kiki Jaspal, Chief Revenue Officer at Renaissance; Dr. Jeffrey Lupker, CEO and co-founder of Staccato; and Erin Reilly, professor and founding director at Texas Immersive Institute University. Moody College of Communication.
Ms. Jaspal explained how Renaissance is using AI to build social music fan engagement apps. She explained that the company is using data from streaming services to create personalized experiences for fans, such as recommending new artists and songs based on their listening habits.
Dr. Lupker discussed how Staccato is using AI to help musicians and lyricists create new music. He explained that the platform uses machine learning to analyze existing music and identify patterns that can be used to generate new compositions.
Ms. Reilly was enthused about the potential of AI to revolutionize the music industry. She argued that the technology could be used to create new forms of music, personalize music experiences for listeners, and even help artists write songs.
The panel concluded with a discussion about the challenges and opportunities associated with the use of artificial intelligence in the music industry. The panelists agreed that it is important to strike a balance between the potential benefits of AI and the need to protect the rights of artists and creators.
Streaming Manipulation 101
This was perhaps one of the most startling and informative panels of the day.
Annesta Duodu, Associate Counsel, Music Canada, moderated the panel that featured Morgan Hayduk, Co-CEO and Co-Founder, Beatdapp, and Will Page, author, Visiting Fellow, London School of Economics and Edinburgh University
Throughout the conversation, the panelists emphasized the crucial role of collaboration among streaming platforms, artists, labels, and governments in tackling streaming fraud comprehensively. They stressed the need for open communication, information sharing, and joint efforts to develop effective strategies and countermeasures. By pooling their resources and expertise, these stakeholders can create a more secure and fair environment for artists, labels, and fans alike.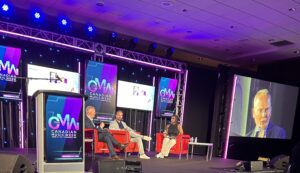 The panelists highlighted the challenges posed by streaming fraud in the music industry and proposed several detailed solutions. These included revisiting the distribution model, leveraging data analytics, educating fans, and implementing deterrence measures. Collaboration between streaming platforms, artists, labels, and governments was identified as paramount. By addressing these issues collectively, the music industry can establish robust systems to detect, prevent, and combat streaming fraud, ensuring fairness, integrity, and sustainability within the digital music ecosystem.
One of the key topics discussed was the need to reconsider the current distribution model, which primarily relies on payment per stream. This model is susceptible to manipulation by fraudsters who create fake accounts or employ bots to artificially increase the number of song streams. To counter this, the panelists proposed shifting to a distribution model based on user engagement metrics, such as the duration of time a user spends listening to a song or the number of times a user shares a song. This approach would provide a more accurate representation of genuine popularity and mitigate the incentives for fraudulent activities.
Another significant aspect highlighted during the conversation was the importance of enhancing data analytics capabilities. Streaming platforms collect vast amounts of data regarding user activity, and leveraging this data effectively can aid in identifying suspicious patterns. For instance, analyzing user behavior to identify anomalies such as extremely short streaming durations or rapid streaming from multiple devices in a short period could help in flagging potential fraudulent activity. By harnessing the power of data analytics, streaming platforms can enhance their ability to detect and prevent streaming fraud effectively.
Educating fans about the risks associated with streaming fraud emerged as another critical factor in combating this issue. The panelists emphasized the need for fans to be aware that there are individuals attempting to artificially inflate the popularity of songs and artists through fraudulent means. It was suggested that fans should exercise caution when interacting with suspicious links or downloading files that could potentially be infected with malware. By increasing awareness and educating fans about these risks, they can play an active role in safeguarding the integrity of the music industry.
Deterrence measures were also discussed as a means to combat streaming fraud effectively. The panelists suggested that streaming platforms and governments should implement punitive measures to discourage fraudulent activities. This could include imposing fines on individuals involved in streaming fraud and pursuing legal action against those found guilty. By establishing consequences for fraudulent behavior, the industry can create a stronger deterrent and minimize the occurrence of such fraudulent activities.
Throughout the conversation, the panelists emphasized the crucial role of collaboration among streaming platforms, artists, labels, and governments in tackling streaming fraud comprehensively. They stressed the need for open communication, information sharing, and joint efforts to develop effective strategies and countermeasures. By pooling their resources and expertise, these stakeholders can create a more secure and fair environment for artists, labels, and fans alike.
Following the Money: New Revenue Streams for Artists
We've all heard streaming stories where millions of ears equal hundreds of dollars. Hyperbole or not, it is true that artists are unlikely to pay their bills with one revenue source. Successful performers seek multiple monetary streams to carry on. This session examined multiple options for artists, managers, and rights-holders to add to their income. Among them: music publishing, merchandise, sync deals, live performances and brand partnerships.
In a panel discussion centered on exploring new revenue streams for artists, the moderator introduced the panelists and set the stage for an insightful conversation. The panelists, comprising moderator Ankita Mathew of Triple G Ventures, Chaz Jenkins from Chartmetric, Daniel Ballantyne from LyricFind, Stacey Bedford from Bandzoogle, Tommy Stalknecht from Single Music, and Andrea England from CMRRA, shared their expertise and shed light on the importance of diversifying income sources for artists. They discussed untapped revenue opportunities and offer valuable insights.
Ms. Mathew kicked off the discussion by emphasizing the need for artists to build and engage with their audience as a crucial step in growing revenue. Ms. Bedford highlighted the value of direct-to-fan engagement and stressed the importance of owning and controlling audience data. Mr. Stalknecht delved into the role of platforms like Single in helping artists drive traffic away from social media platforms and effectively monetize their content. Ms. England explored the evolving landscape of lyrics and its impact on revenue generation through licensing, sync deals, translations, and content analysis.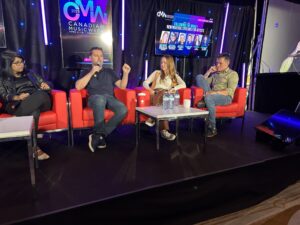 Throughout the conversation, the panelists underlined the significance of understanding cultural differences and catering to international territories. They stressed that artists need to be knowledgeable about the business side of the industry, including metadata and royalty tracking. They emphasized that artists can no longer separate themselves from the business aspects and must take a proactive approach to managing their careers.
Panelists touched upon various topics related to the music industry and the significance of engaging with audiences. Ms. Bedford highlighted the success of their platform, Bandzoogle, which has garnered 60,000 active users, consisting of independent artists, venues, and record labels. The platform achieved $100 million in commission-free sales in January, primarily driven by merch sales facilitated through a print-on-demand integration with Printful. This integration has enabled customers to experiment with different product mixes, minimizing issues such as ordering the wrong sizes and reducing waste and excess inventory expenses.
The conversation then turned towards exploring new possibilities and pushing boundaries in the merchandising space. The panelists discussed the potential for new experiences and brand partnerships. They noted the increased interest from advertising agencies in music during the pandemic, as traditional advertising methods proved less effective. These agencies seek out smaller artists with well-defined and highly engaged audiences that align with the brands they represent. The agencies prioritize audience engagement rates and precise demographics over the number of followers. Artists with engaged audiences can leverage various revenue streams, including merchandise, video revenue, sync licensing, brand partnerships, and international monetization.
The panel stressed the importance of building and maintaining an engaged audience. They mentioned the thriving audiences in Latin America and Korea, where significant growth and success have been observed in recent years. Korean artists, in particular, carefully develop their audiences before releasing music, adapting their content based on audience demographics and interests.
The discussion concluded by emphasizing the importance of globalization and localization in the music industry. While content should have a global reach, it also needs to resonate with local audiences. This approach ensures that music and related experiences are culturally relevant and resonate with different regions worldwide.
In terms of predictions for new revenue streams, the speakers suggested that major labels are starting to understand e-commerce better and are recognizing its potential, especially after the impact of the pandemic on live performances. They anticipate a shift towards more direct-to-fan approaches and an increased focus on owned audience engagement. The panel also felt that major labels may adopt strategies commonly used by independent artists, such as merchandise sales, ticket sales, and fan clubs.
To be continued…