Despite the dominance of digital streaming services, there is a small but devoted group of young adults who continue to collect CDs. These collectors view CDs as more than just a functional tool for consuming music; they see them as merchandise and appreciate the included photos and album design. Many collectors are involved in fandom spaces and consider purchasing CDs as a way to support their favorite musicians. CDs also have a collectible aspect, especially when they are signed by the artist. The low price point of CDs compared to vinyl records is another appeal for collectors. While CD sales have declined overall, there has been a recent uptick in sales volume, indicating a potential renaissance. However, the Recording Industry Association of America (RIAA) data shows a steady decline in CD sales.
According to the Recording Industry Association of America's (RIAA) 2022 year-end report, vinyl sales surpassed CD sales in the US for the first time since 1987. Vinyl sold 41 million units, while CDs sold 33 million units. Vinyl records made up a total of 70% of all physical music sales in 2022, bringing in a total of $1.2 billion in revenue, according to RIAA. Vinyl sales have consistently increased over the last 16 years, accounting for 71% of all physical music format revenue. CD sales plummeted by 18% in 2022. Vinyl revenue itself has beat out CDs since the RIAA's 2020 report, with $1.2 billion in revenue, making up 70% of all physical music sales.
While CD sales have experienced a slight uptick recently, the Recording Industry Association of America (RIAA) maintains that the overall trend is still a decline in CD sales. However, some experts suggest that young people's interest in owning music and supporting artists financially has contributed to the ongoing appeal of CDs.
But how do they listen to CDs in a world where most devices don't have CD players? Well, they don't. They stream their music online, like everyone else. They just like to have the CDs as a souvenir, a decoration, or a conversation piece. They also like to browse and buy CDs in physical stores, where they can discover new music or find rare gems. They say that there's something special about holding a CD in your hands, reading the liner notes, and playing it from start to finish.
Vinyl records are not the only physical music format that has seen a revival in popularity. Some other formats that have also attracted some fans and collectors are:
• Cassettes: Although they are often considered outdated, cassettes have made a comeback in recent years. Some indie artists and labels have released music on tapes, appealing to those who like the retro style and sound. Cassette sales are still small compared to vinyl, but they have shown some growth in the market.
• Limited Editions and Box Sets: For collectors and die-hard fans, limited edition releases and box sets are highly sought-after. These special editions may include extra content, such as bonus tracks, artwork, or exclusive merchandise. They satisfy the demand for unique and collectible physical music items.
• Specialty Formats: Some artists and labels have experimented with unusual physical music formats to create a memorable and distinctive experience for fans. Examples include picture discs, colored vinyl, shaped vinyl, and even music released on unconventional objects like chocolate or balloons. These formats cater to collectors and fans who appreciate the novelty and creativity.
• Merchandise Bundles: Many artists and labels now offer music releases as part of merchandise bundles. These bundles may include items like t-shirts, posters, stickers, or other exclusive merchandise along with the music. This approach allows fans to support their favorite artists while also receiving physical items as part of their purchase.
These formats show that physical music buyers tend to value owning physical copies of their music, while digital music buyers tend to prefer downloading digital files. However, the ratio of physical sales to digital downloads can vary depending on the artist and the demographic of the artist's fan base.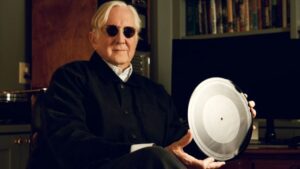 One new physical music format that has been introduced to the market is the Ionic Original format, developed by award-winning record producer and musician T Bone Burnett. This format combines materials used in both vinyl and CDs to create durable, one-of-a-kind analog discs. The Ionic Original format aims to provide a unique listening experience for music enthusiasts who appreciate physical formats[1].
So, there it is. The CD, once thought to be on its last legs, is refusing to go quietly into the night. In a world of wireless earbuds and streaming algorithms, a quirky bunch of music enthusiasts is proving that sometimes, the best way to enjoy music is by embracing a little throwback magic. Amidst the digital era's dominance, the CD emerges as an unexpected champion in the music realm, spinning its tracks through each shiny silver disc.