A federal judge has cast doubt on a copyright lawsuit accusing Dua Lipa of plagiarizing her hit song "Levitating" from a relatively unknown reggae track. The judge stated that there is no evidence to suggest that Lipa had ever even heard the song she is accused of copying.
Last year, the band Artikal Sound System filed a lawsuit against the star, claiming that her 2020 song, which spent 77 weeks on the Billboard Hot 100 chart, borrowed its main hook from their 2017 tune "Live Your Life." However, U.S. District Judge Sunshine S. Sykes ruled on Monday that there was no indication that anyone involved in the creation of "Levitating" had "access" to the earlier song, which is a crucial requirement in any copyright lawsuit.
Artikal Sound System put forth a convoluted theory, suggesting that one of Lipa's co-writers had previously collaborated with a woman who allegedly learned guitar from the brother-in-law of one band member. However, Judge Sykes found these tenuou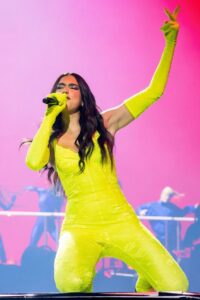 s connections to be unrelated to the two musical compositions in question and did not suggest a reasonable likelihood that the defendants had encountered the plaintiffs' song.
The band also argued that their song was widely available, implying that the writers of "Levitating" must have heard it. They pointed out that it had been performed at concerts, several hundred physical CDs had been sold, and it was accessible on some streaming platforms. However, Judge Sykes dismissed these arguments as too generic or insubstantial to support a lawsuit.
The ruling on Monday technically dismissed the lawsuit against Lipa, but Artikal Sound System has the opportunity to rectify the identified mistakes and file an amended complaint. Neither side's attorneys provided comments following the ruling.
"Levitating," released in 2020 on Lipa's second studio album "Future Nostalgia," achieved great success, reaching No. 2 on the Hot 100 chart and becoming the longest-running top 10 song by a female artist on the chart.
Artikal Sound System, a reggae band formed in South Florida in 2012 as a duo and later expanded to include additional musicians and vocalist Logan Rex, released "Live Your Life" on their 2017 EP "Smoke and Mirrors."
In their lawsuit filed in March, the band claimed that the songs were so similar that it was highly unlikely "Levitating" was created independently. The lawsuit also named Warner Records and others involved in the creation of the hit track.
However, Lipa's legal team presented counter-arguments in November, which were largely adopted in Monday's ruling. They contended that the band's attempts to prove that Lipa or the other writers had heard "Live Your Life" were speculative and lacked substantial evidence.
Following the recent decision, Artikal Sound System has until June 16 to refile their case.