Hold onto your sparkly top hats, because the pop sensation Christina Aguilera is taking Sin City by storm! That's right, she's ready to turn the desert into a sultry playground with her residency at the Voltaire Belle de Nuit, tucked away within The Venetian Resort. The spectacle kicks off during the dazzling New Year's Eve weekend with what is sure to be another extravaganza in the desert.
Christina isn't the only star ready to set Voltaire ablaze. Remember Kylie Minogue, the Australian pop sensation? She's gearing up to be the trailblazer for this sizzling venue starting on November 3. Get ready for a Vegas showdown between two divas that's hotter than a desert chili cook-off!
Now, let's take a trip down memory lane. Las Vegas residencies didn't just pop out of thin air. They were pioneered by legends like Liberace in the '40s, Frank Sinatra with the Rat Pack in the '50s and Elvis in the late 60's. Since then, Vegas residencies were like a retirement home for fading D-listers. But Céline Dion, the Queen of Vegas, came along and breathed new life into the concept, making it the hottest gig in town.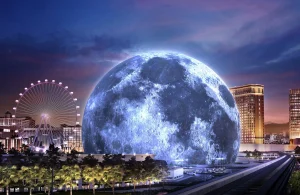 Why are Vegas residencies so popular among artists? Well, they offer a consistent stream of income, a chance to perform for massive audiences, and a convenient platform to promote new music and merchandise. It's like having your cake, eating it too, and then ordering another slice.
When it comes to Vegas residencies, there's no shortage of cash splashing around. Some of the biggest musical stars have made huge bank, and here are a few heavy hitters:
– Céline Dion ($681 million)
– Elton John ($169 million)
– Jennifer Lopez ($101.9 million)
– Lady Gaga ($78 million)
– Bette Midler ($70 million)
– Cher ($60 million)
– Britney Spears ($47 million)
– Mariah Carey ($30 million)
– Reba McEntire ($28 million)
– Rod Stewart ($25 million)
Celine Dion's "A New Day…" residency at The Colosseum at Caesars Palace is the undisputed heavyweight champion, grossing over US$385 million and drawing nearly three million fans to 717 shows. Her second residency, "Celine," brought in an additional $296 million from 427 shows between 2011 and 2019. Remember, these figures are estimates and may vary depending on the source. And we're not even counting the take from the newly opened Sphere and its debut act, U2.
So, there it is. Christina Aguilera and Kylie Minogue are turning Las Vegas into a musical circus, and you're all invited to the extravaganza! Start bedazzling your wardrobe and brace yourself for a Vegas adventure that'll leave you begging for an encore. Remember, what happens in Vegas… gets a standing ovation! Get ready to boogie your heart out in the desert!