Spotify is testing a new playlist option called "Your Offline Mix". The new function allows users to play tracks even when the Internet connection is choppy or close to non-existent. That means, for example, if you are on the tube in London, there is no need to wait for a shallow station allowing access to the cyberspace.
This gesture (the act of generosity, so to speak) follows another addition to Spotify, the AI DJ feature introduced by the platform earlier this year. Despite offering easy navigation through one's favourite tracks as well as new music, this new element made many tech experts roll their eyes and call it deeply unnecessary. Considering the ongoing AI race, it looks as if this has been added in the interests of trendiness rather than in an attempt to make the users happy. The Music Void expressed an opinion earlier.
Unlike what claims to be cutting-edge, the new offline feature seems to suggest more real use. Many streaming platforms, including Spotify, Apple Music, Musify, Soundcloud Go, and Tidal have offered a music-on-demand option so users have unlimited access to previously chosen and downloaded tracks. Yet, with the former, one could do so only through a Spotify Premium account. Forbes recently posted a detailed guide giving step-by-step instructions on how to "How To Download Music On Spotify". The playlist of downloaded music can be up to 10,000 songs long.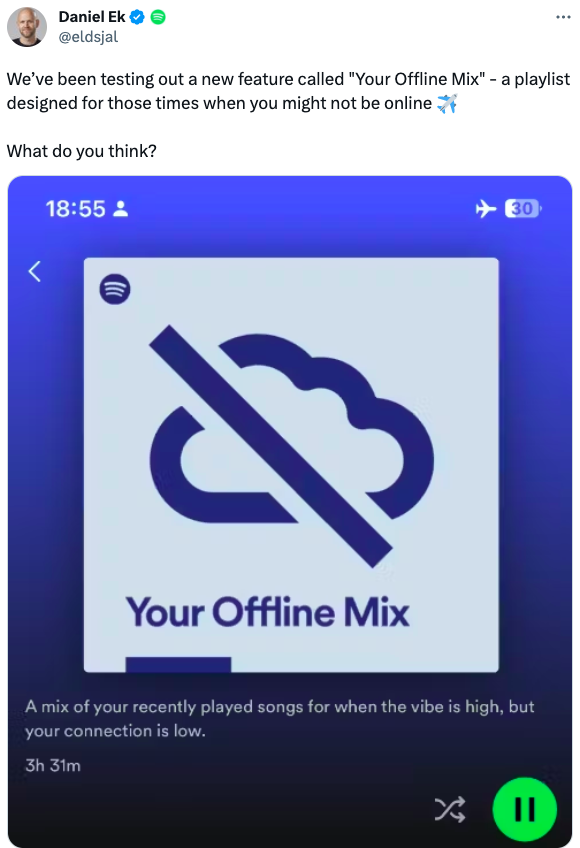 Testing the waters with the new feature, Spotify CEO Daniel Ek shared a screenshot of the potential Your Offline Mix interface on his Twitter profile. Suggesting a length of three and a half hours, the imaginary playlist's description reads as the following: "A mix of your recently played songs for when the vibe is high, but your connection is low." This sentence implies that offline access inevitably imposes limitations. How about exploring new artists and unknown genres? Probably that's too much to ask.
Unlike offline playback, offline mix suggests that users will be able to assess their listening habits. Perhaps, to the benefit of Spotify AI DJ who, thus, learns more about your music taste, ping-ponging your choices. Everything is connected.
It's still not clear when the new feature will be launched and whether it will be available for free. Highly unlikely. In light of recent changes in the company structure, Your Offline Mix sounds like a desperate move to recoup revenue. Last week, Bloomberg reported that the business "has reconsidered its expensive podcasting strategy" with the presenter of "Unbothered" podcast Jemele Hill leaving Spotify. In addition to this, New York Times reported on the company's decision to discharge 200 employees.
That said, Spotify has been working on the offline feature for quite some time. In her tweet dating from May 2020, reverse engineer Jane Manchun Wong wrote: "Spotify is working on "Offline User Mix", described as "This is your offline mix tailored for you".